Summon Quest is an action RPG mobile game packed with challenging combat and diverse gameplay. With core roguelite elements, expand your arsenal with new skill combinations for each stage. Reach and defeat hearty bosses, allowing you to recruit them to become your new partners in battle, ready to be summoned at your fingertips!
Use the on-screen joystick to breeze your way through the field, dashing and dodging your way past enemy missiles and attacks. Evolve your fighting style as each level cleared will reward you by letting you choose1 of 3 randomized, unique, and powerful skills. As you mix and match different upgrades, each area will offer you versatility in the way you decide to battle your opponents.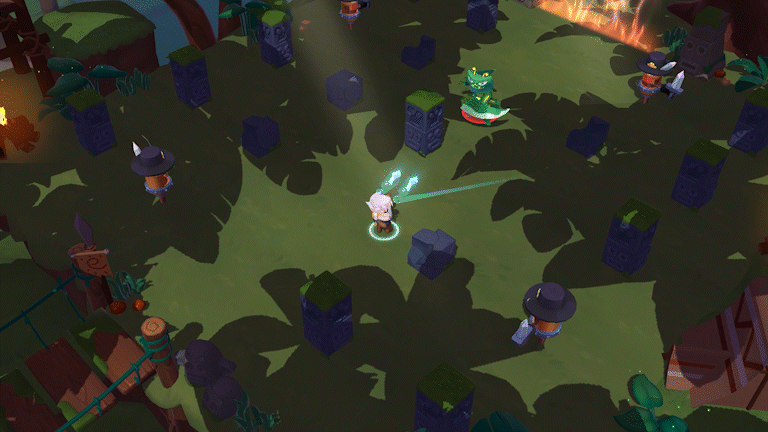 Experience ever changing combat and new challenges due to random stage systems which offer different enemy spawns and layouts on each run. Clear each area to gradually unlock new regions on the world map where new challenges and bosses await you.
Each region holds powerful mini-bosses and a mighty final boss. Various defeated mini-bosses can be added to your team and summoned in combat. Recruit and increase your collection of summons, forming a line up that's truly your own!
Tactically summon your team to gain an edge in battle when needed. With three summon slots available, choose your summons wisely and be mindful of elemental advantages. Make use of countering the enemy's elemental class and deal some true damage!
Each location holds unique levels filled with monsters, obstacles and traps, providing a different experience on each run. From the Sword Plains to the Mystery Forest and everything in between, challenge yourself to reach and clear all world map regions.
Defeated bosses can be recruited to join your summoning team, providing you with extra support. Customize your lineup, and let enemies fight against enemies. Equip from multiple summonable classes and build your team however you want.
Join the Mighty Pirate Community
Collect rewards during your runs as well as for completing quests. This will earn you bountiful coin and keys that unlock chests holding valuable loot. Upgrade and level up both your character's stats and gear as well as your team. Then go back into battle stronger than ever!